Rough Top Conveyor belt manufacturers, Supplier & Exporter in Bhutan
From the year of commencement of our organization, we are providing 
Rough Top Conveyor Belting
 solutions to our clients at their pocket friendly prices. We are also the best manufacturer and supplier of this belt in which the top surface is made of wear-resistant rubber has rough impression, thousands of flexible gripping fingers provide superior grip to hold packaged products or units being carried up or down with higher inclination angle upto 35 degree. This belt is made of two or three piles of Nylon & EP fabrics that endow flexibility to the conveyor belts along with greater strength.
Rough Top Conveyor Belt manufactured by us is used for transporting lightweight good, fragile materials, packed goods like papers, bags, glass, boxes, cartons, sacks, boxes and parcels. The peak cover of it is made of wear challenging rubber with an anti slippage surface. We are influential in manufacturing this belt that is comprehensively used in areas of packaging, tyre, food processing and other industries. The unique texture of this conveyor belt prevents the affinity for the material to collapse from the conveyor. Also this belt conveyor is appreciated globally, due to their salient attributes including perfect finish, high performance, dimensionally accurate, high strength, tear resistance, durability, resistant against abrasion, high strength & flexibility, low friction co-efficient with bare back bottom, etc.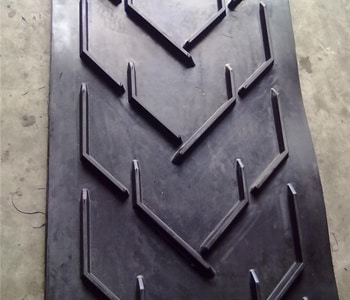 Moreover, this belt has a cushioning effect, mollifies, absorbs sensations and collision given on transported materials and at the same time prevents losing balance and falling down. To ensure the greatest slipping resistance of our Rough Top Conveyor Belts, we perform adequate testing prior to dispatch as well as procure high grade material from an authorized vendor to fabricate the rough top conveyor belts that surpass the expectation of our patrons.