By maintaining the track of complicated market improvement, Pashupati Rub Tech is affianced in providing an exclusive range of 
Endless Conveyor Belt
. As its name suggests, it is the conveyor belt with no joints available up to 2400mm and available for the entire range of it that apparently do not have any defects in joints that perhaps cause interruption during transmission of the product. This belt has an extremely uniform tension and have made of the 2 to 6 plies of polyester or NN 200 type nylon canvas that bestow a stronger layer to rove light duty to heavy duty materials effectively. Well qualified and skilled engineers specially manufacture this endless conveyor belt with no joints are available for the entire range of conveyor belts  including heat resistance, oil resistance, heavy duty, light duty, food, and rough top. Also this belt provides the consistent and reliable operation of any automation system that ascertains low elongation during the operation.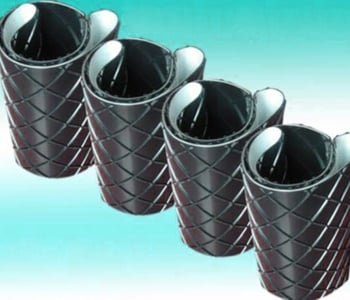 This belt conveyor helps in transfer all types of products and examined on various stages after they have been completely crammed and is ready for ship. It is mostly used in biscuit & bread manufacturing industries, chemical plants, mines industries, agricultural industries, food industries, metallurgical industries, mobile crushing & screening plant, recycling sectors, cement industries and many more areas.
To make sure about the excellent quality Endless Conveyor Belt is prepared; our quality analyzers severely tested all the belts on certain well characterize parameters to ensure their quality factors and durability. We also provide customization as per the specifications laid down by the customers to meet their expectations. In the manufacturing process of this belt, our professionals use sophisticated technology and innovative manufacturing method to provide a countless range of configurations and coatings for custom-designed Conveyor Belt. Our all customers can avail this range from us at very nominal prices.
Offered belt find their uses in various application areas:
Screening, mobile crushing, metallurgy, coking, cement, steel, milling machine, recycling sectors.