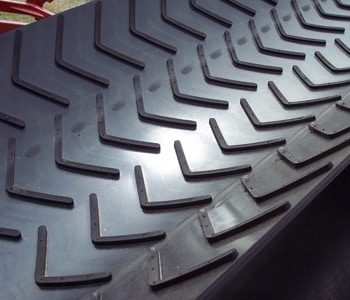 Scaling to new heights in the domestic as well as in the international market, we are affianced in providing Chevron Conveyor Belts to our clients at their budgeted prices. This conveyor belt is defined as chevrons belt with chevrons moulded and directly integrated in the cover of the conveyor belt, in order to increase the friction between the belt and material conveyed. This conveyor belt is manufactured by our skilled professionals that are available in a wide range of designs that can transmit both wet and loose materials on climbing or incline drives. This belt conveyor is appropriate for conveying wood chips, sand & gravel, heavy duty scrap metal, coal & ore, fine coal & grains, bagged materials and steel pellets.
In the manufacturing process of Chevron Conveyor Belts, we use both PVC and rubber material that are procured from the reliable dealers from the industrial market. Where the flat surface is failed to traction material in the inclined transmission of the material, chevron conveyor belts have more potentiality to traction packed and unpacked material up to 40° and fulfill the requisite of the higher angle inclination. Manufactured array of this belt has brilliant and unmatched features such as greater grip, high performance, and long life expediency made it deserved conveyor belt for the inclined transmission application.
Chevron Conveyor Belts provided by Pashupati, is available at our premises in varied sized cleats to match with application ranges from 16mm, 25mm to 32 mm used to transmit powder, loose flowing, loose rolling, sticky/ wet flowing and also packed product wandering. This conveyor belt is widely used in the application where the Inclination angle is too high and the conveying material is rolling back. Our professionals specially manufacture this belt to prevent the material from sliding backwards. Offered belt is precision designed and developed for providing desired space-saving on steep inclines which can go up to 40° inclination possible.
In addition, it is highly appreciated among our customers due to their some standard features such as
High capacity conveying at steep angles.
Low deformation even under high temperature.
Ideal suited to load light to heavy materials.
Prevent load slippage of products while conveying.
Good adhesion with rubber and excellent mechanical fastening.
Having high efficiency that provides great performance and longer working life.
Available in white finish that helps in maintaining better hygiene standards.
Manufactured with C, L and V shaped cleats that are integrally molded with top cover rubber that prevents separation from belt.
Manufactured range of Chevron Conveyor Belts finds their usage in many industries including:
Food Industry
Steel Industry
Airline Industry
Oil & Gas Industry
Automobile Industry
Hardware Stores
Cement Industry
Sugar Refineries
Salt Mines
Mining Mineral Industry
Construction & Crushing Industries