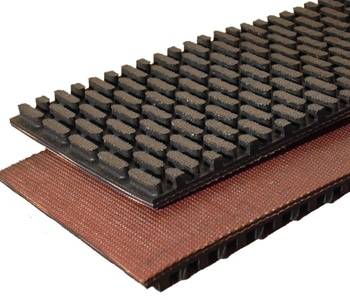 By leveraging the checkered texture of the rubber belt, we bring forth checkered conveyor belts that boast an aptitude to strongly hold roving product and resist to transverse impulses that is being applied to the bottom. These checkered conveyor belt posses 5mm to 30 mm depth of pattern and is available in multifarious patterns inclusive of open V, closed V, ribbed, fishbone, herring, round pit and round nail patterns, each pattern is available in low, medium and greater heights to comply with loose material and bagged material application requirement. In addition to no joints for smooth operation, the cleats and top cover of the checkered conveyor belt are vulcanized to render greater robustness, reliability and long life expediency.
Our checkered conveyor belts are the result of the greater endeavors of our product engineers to bestow greater potentiality to the conveyor belts along with reliability and safety. Additionally, our team is prudent enough to ensure the end product is strongly in conformity of the international standards.
Ensure longevity
Resistance to heat, wet and corrosion
Resistance to wear and impact
Greater elasticity
Carry loose material up to 17-18
Carry bagged material up to 30-35
Application:
Loose material, wood chips, sand and gravel, heavy duty scrap metal, coal and ore, fine coal and grains, bagged materials
Note: Along with renowned as a Checkered conveyor belt manufacturer in India, our specialty lies in manufacturing conveyor systems, conveyor rollers, rubber moulded products and polyurethane products, all are available at the best affordable rates. For any type of purchasing help for our products, contact us today!!