Definition, Specification, Designs: What is a Gravity Conveyor?
Our company is recognized as an affluent entity, engaged in offering a qualitative assortment of Gravity Roller Conveyor. Manufactured array of this roller conveyor is used to convey items with sufficient weight to allow them to move over downward path, usually on an inclined runway. It is based on a fabricated framework, usually put together in longitudinal sections and slightly inclined. It consists of carrying freely rotating tubular rollers on which a load will move under gravity.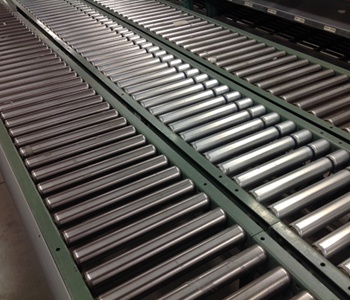 These gravity roller conveyors are fabricated merely at the inclination of 4 to 7 degrees, wherein the gravity of the conveyor aids in transmission of the product with no need of the motors. Our 
gravity roller conveyors
 are also used with level, wherein the product is transmitted on the conveyor by pushing the operator along to its last destination. Our engineer's manufacture this roller conveyor, in which they can use mild steel, stainless steel or even PVC material as per suitability.
Gravity Roller Conveyor
 offered by Pashupati, is made by the prudent team of professionals and under the austere vigilance of the product analyst to ensure the effective configuration and fabrication of the conveyor system that operates on the gravity mechanism without interruption. This conveyor system is appropriate for permanent as well as temporary conveyor lines and is used widely used for its low cost yet effective traits available for light duty, medium duty and heavy duty products.
Offered roller conveyor is very efficient to convey loads either horizontally or at a decline. It requires very little pitch to transport products automatically, but can only be used with products that have a flat bottom, like boxes, bins, trays, and totes. Also this Gravity Roller Conveyor curves can also be added to move products around corners or other obstacles within the warehouse. Furthermore, it has modular in construction, so that longer lengths are possible, using smaller units.
At last but not least, this roller conveyor is manufactured at our production unit in different kinds of materials, also available in different sizes, shapes and customized options. We also made this conveyor as per their given specification by our respected customers. In addition, they can avail this range from us at their pocket friendly prices.