Manufacturer, Suppliers of flexible roller conveyors that extend and bend to your requirements
Being the preferred choice of all industries, Pashupati is involved in manufacturing and supplying Flexible Roller Conveyor that is made by using various types of material comprising aluminum, iron and other metals, sophisticated technologies and latest machinery. It is a versatile product useful in places where there are space restrictions, truck loading and unloading operations. This system can be used for conveying cartons or crates from one place to another. Furthermore, this roller conveyor is made from galvanized steel rollers and along with adjustable square tubing legs of 28" to 36" whereas additional heights are available on the request.
This Flexible Roller Conveyor is perfectly developed to provide the advanced material handling solutions and mostly used for conveying and loading unloading at complicated environments of airports and warehouses. Our well qualified professionals specially designed this conveyor roller with utmost flexibility and remarkable expansion features. We offer this roller conveyor to our esteemed clients, which are used for material handling applications in different industries such as automotive, food and packaging etc.
The innovative design of the offered flexible roller conveyors can be used as a short-term conveyor line as well as everlasting conveyor line as per the application required. This product is provided in various dimensions to our clients and has high tensile strength, high operational fluency, superior design ensures greater flexibility & hassle free operation, requires less maintenance, adjustable in height & extends in length, anti-corrosive, impact resistant and excellent functionality. It is made completely portable and has played an important role in easy conveyance of food and industrial products.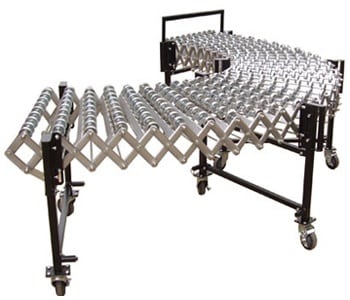 Manufactured array of this Flexible Roller Conveyor is fitted with heavy duty castors for ease of movement and flexibility inside truck floors. It is also available in customized options of powered material flow using electric motors or gravity flow using height differentials at our premises. Offered roller conveyor is usually recognized among our customers globally due to their robust construction and effective conveying of bulk materials.
Flexible Roller Conveyor manufactured by our company having excellent flexibility all because of the profound research and development approach of our shrewd team towards every product to give better than others. Systematically tested on the different parameters of quality standards, these roller conveyors can be acquired by our clients from us at economical prices.