Table Conveyor System Manufacturer, Supplier in pakistan, Iran, Qatar
Business type: Manufacturer, supplier and exporter Product type: Conveyor System Country: India We are foremost manufacturer of the assorted range of conveyor systems, among them we introduce a table conveyor system, a system that is made to cater the varied industries associated with handling of transporting, combining, turning, labeling, filling, packaging, merging and diverting. These table conveyor systems are designed precisely to devoid of pinch point areas to facilitate in preventing injury along with the close fitting design bestow a straight, horizontal and vertical running aptitude. The offered product is also suitable alternative where space is a major concern as it offers multilevel transportation.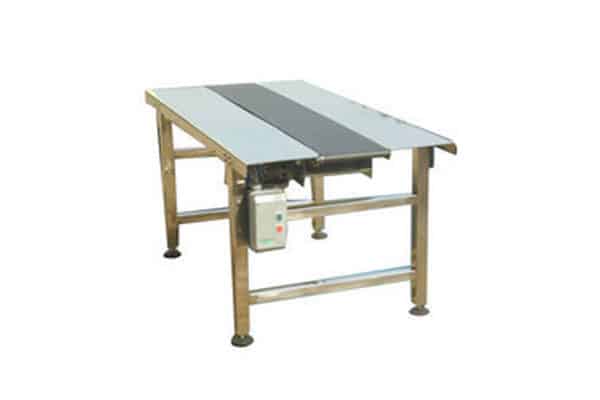 The 
Table conveyor system
 offered by us is made by the experienced and prudent team, who possess the profound knowledge in the conveyor system manufacturing. Available in assorted range as well as customization is available for different products with different belt types and configuration as required by the customer. Along with, render installation and services pertaining to the offered conveyor systems.
| | |
| --- | --- |
| Length | 1000 mm to 4000 mm |
| Conveyor Width | 500 mm, 600 mm, 700 mm, 800 mm, 1000mm, 1500mm |
| Belt Width | 200mm, 300mm, 500mm, 700mm |
| Side table width | 200mm, 300mm, 400mm |
| Motor | 220-240 V (delta) /380-415 V Y (Star) /50 Hz |
| Fixed Speed | Min 3 m/min; Max 30 m/min |
| Variable Speed | With VFD (1 phase input, 3 Phase output) |
| Belt Material | PVC, PU, Rubber |
| Structure | Aluminum, stainless steel, SS 304 / 316 |
| Type of Drive | Direct, Indirect, Intermediate |
Note: Along with renowned as a Table Conveyor Systems manufacturer in India, our specialty lies in manufacturing conveyor belts, conveyor rollers, rubber moulded products and polyurethane products, all are available at the best affordable rates. For any type of purchasing help for our products, contact us today!!