Conveyor Sorting System Manufacturer in Europe
Business type: Manufacturer, supplier and exporter
Product type: Conveyor System
Country: India
To achieve accurate and seamless sorting of the product, we as a manufacturer of the conveyor system introduce sorting line conveyor system, a conveyor that has capability to cope with quick and targeted 90° accurate diverting during the sorting of the products. This conveyor system is an example of implantation of cutting edge technology to achieve the automated together with accurate sorting of the product in a timely manner. The offered sorting line conveyor has a potential to effectively accomplish high speed automated sorting to successfully streamline the distribution.
These sorting line conveyors have already established a strong niche in picking, packing, sorting and shipping industries for its rugged and easy to operate traits. These conveyor systems are seamless and require virtually no maintenance, are all because of our quality analyst team who performs meticulous tests to insure the seamless end product. Furthermore, customization is also available at the competitive rates in the market.
| | |
| --- | --- |
| Length | 1 m to 25 m |
| Roller Width | 200 mm to 1000 mm |
| Roller Material | Steel, plastic |
| Roller Diameter | 50mm |
| Type of Conveyor | Powered roller conveyor, 90 degree bend powered roller conveyor |
| Motor | 220-240 (delta)/380-415 VY (Star)/50 Hz |
| Speed | Max 30 m/min |
| Variable Speed | With VFD (1 phase input & 3 phase output) |
| Structure | Stainless steel, steel |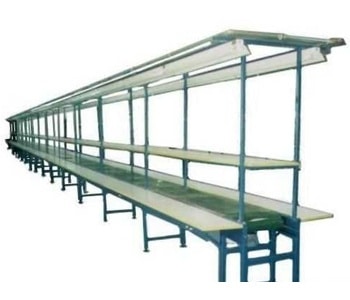 Note: Along with renowned as a Sorting Line Conveyor manufacturer in India, our specialty lies in manufacturing conveyor systems, conveyor rollers, rubber moulded products and polyurethane products, all are available at the best affordable rates. For any type of purchasing help for our products, contact us today!!