Food Conveyor Belt Manufacturer , Dealer , Stockiest in Dubai, Afghanistan
We have set a strong footprint in industries dealing with manufacturing, warehousing and distribution operation for rendering righteous solution pertaining to their challenges, is a result of our continues endeavors towards innovation and implementing them during the fabrication to bestow unrivalled solution. Our palletized chain conveyor is one of them, made of tough, solid transfer surface to uphold extreme loads are an epitome of performance, durability and reliability. The modular configuration of these palletized chain conveyor system boasts potential to easily adopt any type of application along with 3.4" pitch flat sided chain renders strong supporting surface to the convey heavy weight loads up to 1500 kg insure greater extent of the safety which is being an integral part of the all industries.
These palletized chain conveyor systems are available in dual chain as well as triple chain that are suitable for medium duty and heavy duty industrial applications. Apart from, we render tailor made service, wherein the customer will get the conveyor system as per the stated specification at the leading rates in the market.
| | |
| --- | --- |
| Length | 2.5 m to 25 m |
| Chain Accumulator | chain with steel roller or plastic roller |
| Motor | 220-240 V (delta)/ 380 -415 V Y (Star)/ 50 Hz |
| Speed | Max 30 m/min |
| Conveyor Frame | Aluminum profile |
| Structure | Aluminum profile, steel |
| Types | Single tier and two tier |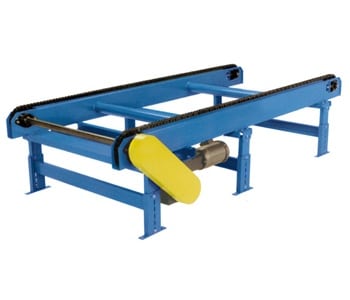 Note: Along with renowned as a Palletized Chain Conveyor manufacturer in India, our specialty lies in manufacturing conveyor belts, conveyor rollers, rubber moulded products and polyurethane products, all are available at the best affordable rates. For any type of purchasing help for our products, contact us today!!