No.1 Sturdy Conveyor with Modular Belt Manufacturer
Since its establishment, Pashupati Rub Tech has grown day by day and acknowledged as a reputed Flat Top Modular Belt Conveyor manufacturer and supplier from Ahmedabad, Gujarat. The qualitative range of this conveyor belt is made from stainless steel or mild steel with powder coating that ascertains excellent resistance to the corrosion, render long life expectancy and better durability.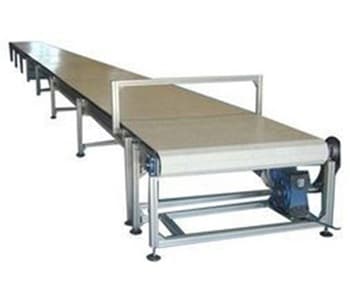 To get the better of the challenge to transmit the product, wherein belt is not possible due to slip, critical length to width ratio and transverse forces, we bring forth modular conveyor belt also know as flat top modular belt conveyor due to the flat surface of the belt. It is integrated with positive locking drive and side rails. Additionally, we render reinforced bearings, drive shaft as well as sprockets on request to utilize the potentiality of the chain at the zenith.
Modular belt conveyors are amazingly powerful and can be utilized in a large number of ways for pretty much every vehicle application. The belts are wear safe and can even be utilized to move item with sharp edges. The transport framework offers different chain materials to make it reasonable for food, appropriate for high temperatures or impervious to synthetic compounds.
Latest Searches of Flat Top Modular Belt Conveyor
Modular Conveyor Belt at Best Price in India
Stainless Steel Flat Top Modular Belt Conveyor
Flat Top Modular Belt Conveyor Manufacturer from Pune
modular belt conveyor design
modular belt conveyor manufacturers
Flat Top Modular Belt Conveyor design
modular belt conveyor price
modular belt manufacturers
modular conveyor belt manufacturers in india
belt conveyor
slat chain conveyor parts
buy Modular Conveyor Belt
Flat Top Modular Belt Conveyor price