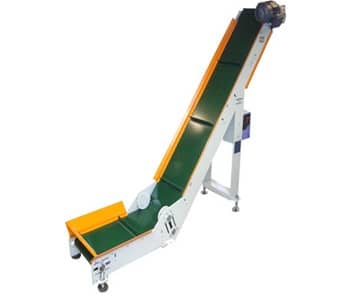 Vertical transmission is a daunting task which requires greater attention to ensure the exemplary vertical transmission of the product, as the failure of the transmission can lead to the calamitous. By heeding on the prerequisite of vertical transmission, we introduce elevator conveyor belt, a belt that has an excellent potential to cope with the challenges that come across the vertical transmission. These elevator conveyor belts are available in multi ply rubber material and rubber belts with flights for rolling material are fabricated by owing anti sliding property that renders effectual elevating operation with an assurance of no any calamitous throughout the transmission.
Our profound knowledge in manufacturing conveyor belts that are in accordance with the customer requirements has made us capable to configure any type of conveyor belts that are strongly in the conformity of the stated requirement as well as boast the higher grade standards. The considerable triumph in fabricating safe and reliable elevator conveyor belt is also the result of our elongated experience in customization of the conveyor belts.
Low elongation
Greater impact resistance
Wear resistance
Greater tensile strength
Ensure smooth operation
Application:
Fruits, vegetables, dry fruits, automobile parts, cartons, Meat, poultry, sea food, snack, dairy,
Note: Along with renowned as an Elevator conveyor belt manufacturer in India, our specialty lies in manufacturing conveyor systems, conveyor rollers, rubber moulded products and polyurethane products, all are available at the best affordable rates. For any type of purchasing help for our products, contact us today!!